Insurance Agency in Morehead City, North Carolina
If you have been searching for the best rates on your insurance coverages in the Morehead City, North Carolina area, Sound Choice Insurance is here to help!  We can assist you in finding coverage for a myriad of different assets, such as your home, automobile, or boat; we also assist in commercial insurance as well.  If you need both personal and commercial insurance, we are happy to help you find coverage for both!
Sound Choice Insurance has been serving clients on North Carolina's Crystal Coast area for more than 30 years.  Our team has the experience and expertise to provide you with the most coverage for the lowest price.  If you are looking for insurance in Morehead City, NC, consider Sound Choice Insurance today!

Personal Insurance with Sound Choice
Not only do we help our clients find great prices on their insurance policies, we also take pride in helping find the best value as well.  We want to make sure that you have the amount of coverage you need – or more – while maintaining the lowest price available.
We understand that every individual has their own situation and set of needs.  Because of this, we work directly with you to craft a personalized plan for your insurance.  This way, you can ensure you're getting the highest value out of your plan when you purchase it.
Take a look at some of the personal insurance plans we are able to offer to our customers in or near Morehead City, North Carolina:
Other Specialty Insurances
If you have any questions regarding these types of personal insurance, or are interested in working with Sound Choice Insurance to create your insurance plan, contact us today!  We are ready to help in any way you need.
Business Insurance Services at Sound Choice
When you run a business, you put immense amounts of time and effort into your company.  This is why you want to make sure that your company's assets are protected.  Bring us your current business insurance coverage and we can help you identify any gaps in your coverage.  This way, we can show you exactly where your coverage can be improved for maximum liability protection.  After all, you want to make sure that both you and your employees are covered in any situation.
Whether you are a large commercial business with headquarters in Morehead City, or you are a small business with a single location, we can help you maximize your business insurance coverage at a fair price. Here are some of the business Insurance services we can offer you.
How to Get to Our Office in Morehead City, NC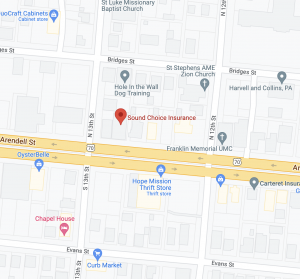 Our office is conveniently located right downtown in Morehead City, NC.  You will find us on the corner of N 13th Street and Arendell Street (also known as US-70).  We are across the street from Hope Mission Thrift Store, at 1210 Arendell Street Suite A.
If you have any trouble locating our office, feel free to give us a call so we can help direct you to the right place!
Contact Sound Choice Insurance of Morehead City Today
If you are located in Morehead City, NC and you would like to get a fair price on personal or business insurance coverage, contact Sound Choice Insurance now! Our office is located in the heart of Morehead City.
Fill out the contact form below so we can supply you with a quote for your personal or business coverage. You can also call the number at the top of our website to speak to one of our expert insurance agents – we are able to answer any questions you may have. We look forward to hearing from you and we are ready to provide you with excellent customer service!